Singing radio hits of the 1920's-40's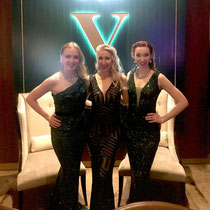 From the time of Gin Joints and Speakeasy's to the Swing and Boogie era of the 1940's, The Agency is elegance, with a true vintage sound.
Their show features radio hits from the 1920's to 1940's.  Stylized with character, choreographed with glamour and infused into every song is the rich, golden era of Hollywood.


With harmonies that swing, The Agency can entertain the masses or just groove with an intimate crowd. Perfect for that special occasion that wants an atmosphere of class and sophistication.

       "The Agency was the highlight of the evening,
       they added a touch of class to the entire event. They were perfect"  
                           -Sharon Bonner, Bright Ideas Event Coordinators Ltd.