Christmas with The Agency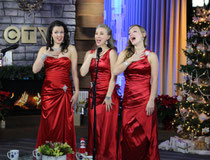 Classic Christmas carols sung with smooth harmonies reminiscent of the 1940's. When it comes to celebrating Christmas, The Agency girls are experts!
From "Let it Snow" to "White Christmas", The Agency sprinkles festive charm into Christmas songs for the jolly holi-days!
Check out The Agency's very own Christmas song "We All Want Santa".

With it's catchy lyrics and a brassy swing, we think it's a fresh new take for the holidays! Click the below below to hear the new song.
~"They sound like The Andrews Sisters... only more glamorous!"
                 -Guest overheard at The Fairmont Chateau Whistler.